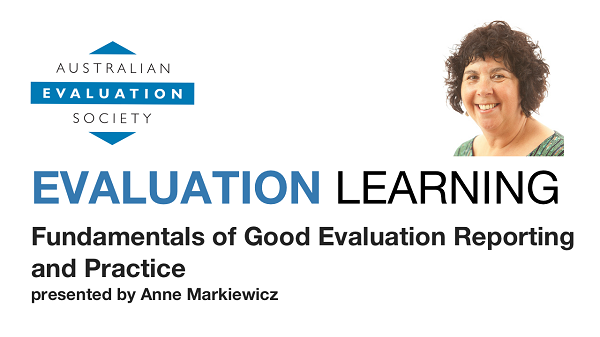 Date and time: Monday 17th August AND Monday 24th August 2020, 9.30am to 11.00am AEST (registration from 9.15am) Registrants must attend both sessions (half day workshop - 2 sessions)
Venue: Via Zoom. Details will be emailed to registrants just prior to the workshop start time
Facilitator: Anne Markiewicz
Register online by: 12 August 2020. Spaces limited to 25 participants from Australia and NZ and international AES members
Fees (GST inclusive): Members $165, Non-members $315, Student member $95, Student non-member $140*
* Students must send proof of their full-time student status to This email address is being protected from spambots. You need JavaScript enabled to view it.
Workshop Overview
The evaluation profession is often judged by the quality and usefulness of evaluation reports produced. If evaluation is to continue to gain legitimacy, the reports produced by evaluators need to reflect high degrees of professionalism, ethical practice, provide sufficiently robust data and findings to support evaluative judgements, and generate recommendations that can be used for program improvement and decision-making. There is scope for considerable skill development in evaluation reporting as a multi-faceted process with requirements for both good evaluation practice and a credible written product. The aim of the workshop is to improve the quality and usefulness of evaluation reports produced so that there is value-for-money in the funds that have been invested by the commissioner and knowledge generation both for the subject of the report and for other like programs where transferability is possible. The aim is also to guide evaluation practice so that it links with and leads to effective evaluation reporting.
This workshop will equip participants with an understanding of 10 key principles that make for good evaluation reporting, with identification of the core components and features involved. Participants will then apply the principles to an evaluation report and subsequently to their workplaces or evaluation practices.
Workshop Content
Participants will learn:
Ten useful principles of effective evaluation reporting that can be used as a checklist when writing or reviewing evaluation reports;
Why the principles have been selected and the role they play in guiding evaluation practice and the production of credible evaluation reports;
How to review an evaluation report with reference to the 10 principles;
A table of contents for a comprehensive summative evaluation report; and
Different types of evaluation reports and formats for evaluation reporting.
A mix of training methods will be used including Power Point presentation and opportunity for break-out group discussion and a structured exercise to assist with the application of the principles.
Between sessions, participants will be asked to identify an evaluation report and review that report by applying the 10 principles. Participants will then share their findings in the second part of the workshop.
Workshop Objectives
This workshop will provide commissioners, producers and users of evaluation reports with guidance and a check-list for assessing the quality and comprehensiveness of evaluation reports. The workshop will provide commissioners of evaluation with a useful framework for reading, reviewing and assessing commissioned evaluation reports and evaluators with a useable framework that imparts the key principles and approaches for good evaluation practice that leads to the production of credible evaluation reports. The knowledge and practices gained will assist participants in both producing credible evaluation reports and reviewing reports produced by others
PL competencies
This workshop aligns with competencies in the AES Evaluator's Professional Learning Competency Framework. The identified domains are:
Domain 1 – Evaluative attitude and professional practice
Domain 2 – Evaluation theory
Domain 4 – Research methods and systematic inquiry
Evaluative Attitude and Professional Practice: the workshop focuses on achieving professionalism in the conduct of evaluation practice and the production of credible evaluation reports
Evaluation Theory: The approach to reporting presented is strongly theory based, particularly utilising Program Theory, Program Logic and Evaluation Questions to structure evaluation practice and reports
Research Methods and Systematic Inquiry: the workshop adopts a strong emphasis on reports presenting systematic enquiry from which evaluative judgments have been formed
Who should attend?
Both producers and commissioners of evaluation reports
Workshop start times
Victoria, NSW, ACT, QLD, TAS: 9.30am
SA, NT: 9.00am
Perth: 7.30am
New Zealand: 11.30am
About the facilitator
Anne Markiewicz is an independent evaluation consultant and Director of Anne Markiewicz and Associates. She has completed a wide range of evaluation projects and produced 80+ evaluation reports for government departments, non-government organisations and international agencies. Anne has assisted and supported commissioners of evaluation to review commissioned evaluation reports and evaluators to establish good principles in evaluation practice and reporting. Anne has received numerous awards for excellence in evaluation from the Australian Evaluation Society including the 'Indigenous Evaluation Award' (2008; 2015) and the 'Outstanding Contribution to Evaluation Award' (2013). She was made a Fellow of the Australian Evaluation Society in 2015, in recognition of her contribution to evaluation and to the Society. Anne Markiewicz and Ian Patrick co-authored the text book 'Developing Monitoring and Evaluation Frameworks' (Sage, 2016).
---