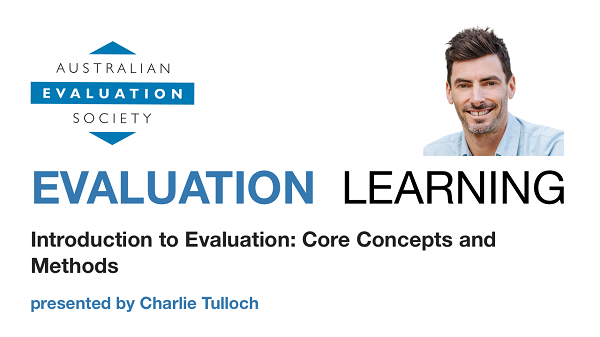 Date and time: Tuesday 21st June AND Thursday 23rd June 2022, 9.30am to 12.30pm AEDT (registration from 9.15am) Registrants are to attend both sessions. (full day workshop - 2 sessions)
Venue: Via Zoom. Details will be emailed to registrants just prior to the workshop start time
Facilitator: Charlie Tulloch
Register online by: 19 June 2022. Spaces limited to 25 participants
Fees (GST inclusive): Members $260, Non-members $425, Student member $125, Student non-member $210*
* Students must send proof of their full-time student status to aes@aes.asn.au
Workshop Overview
This workshop is aimed at those who are new or intermediate in the evaluation field. Its purpose is to outline the key concepts, terms and approaches for conducting or commissioning evaluation projects. It defines the role of the evaluator and the rationale for evaluation. It details the various evaluation approaches and a seven-phase method for conducting evaluation projects.
In doing so, the workshop steps through the key steps in framing, conducting and reporting on evaluation findings. It also provides guidance for commissioners of evaluation and shares resources for evaluators to continue building their skills and knowledge.
This workshop may be conducted in conjunction with a follow-up Workshop Introduction to Evaluation - Applied Techniques (Online 12 + 14 July 2022)
Other dates will be organised later in 2022.
Workshop Content
This is a knowledge-building workshop that will provide attendees with greater clarity about core evaluation concepts and methods for conducting research.
Workshop Objectives
The purpose of the workshop is to provide attendees with an opportunity to reflect on the place of evaluation in the policy cycle and to improve their awareness of the different stages in completing high-quality evaluation projects.
PL competencies
This workshop aligns with competencies in the AES Evaluator's Professional Learning Competency Framework. The identified domains are:
Domain 1 – Evaluative attitude and professional practice
Domain 2 – Evaluation theory
Domain 3 – Culture, stakeholders and context
Domain 4 – Research methods and systematic inquiry
Domain 5 – Project management
Who should attend?
Those who are new or intermediate in the evaluation field, or those who feel they would benefit from time to reflect on the core themes and theory underpinning the evaluation field.
Workshop start times
About the facilitator
Charlie is a public sector evaluation and public policy consultant. Since mid-2008, he has worked in small, medium and large consulting firms. He founded Policy Performance in February 2018 to support public sector policy development, implementation and evaluation.
Charlie started as a Victorian public service graduate in 2004, working for the Victorian Department of Premier and Cabinet for four and a half years, providing policy advice in the areas of infrastructure, intergovernmental relations, economic development, tourism, major events, sport and recreation, and innovation.
Since turning to consulting, he has completed evaluation and reform projects across many portfolios, including: Indigenous affairs, education and training (early childhood, primary, secondary and tertiary), industry/economic development, intergovernmental relations, community services, emergency services, out-of-home care, grants administration, sport and recreation, regional development and justice/corrections.
Charlie completed a Master of Evaluation in 2014 and was a tutor in Impact Evaluation at the University of Melbourne's Centre for Program Evaluation between 2015-18. He is currently an online facilitator for Oxford University's Evidence In Public Policy leadership short course. He is also an AES Board member and a Victorian regional committee member.
---