AES Alert: 16 June 2022
AES ALERT: 2 june 2022
aes22 Conference Early Bird discounted registrations close 7 July
aes22, celebrating evaluation and excellence in Adelaide
This year in Adelaide, for the first time since Sydney in 2019, we gather together to celebrate evaluation, excellence, and each other.
Showcase your own or a colleague's work by submitting a nomination for an AES Award for Excellence in Evaluation. And register now to join with your evaluation colleagues in Adelaide to attend pre-conference workshops as well as the aes22 conference.
Be sure to check out our keynote speakers, and featured panels, on this page.
The conference program is now available at: aes22.sched.com
Key dates

1 July: Nominations close for Awards for Excellence in Evaluation
1 July: Nominations close for Fellows of the AES
7 July: Early bird discounted conference and workshop registrations close
28 & 29 August: preconference workshops
30, 31 August and 1 September: Adelaide conference
31 August: Gala Awards Dinner
---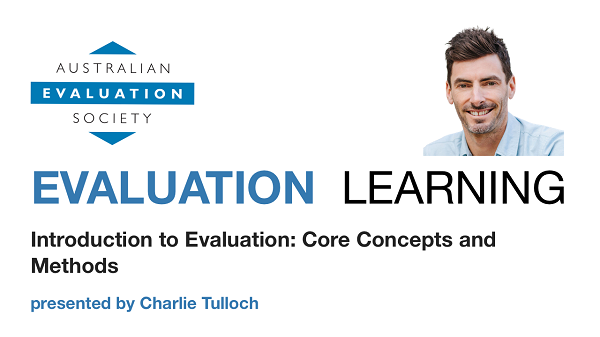 Date and time: Tuesday 21st June AND Thursday 23rd June 2022, 9.30am to 12.30pm AEDT (registration from 9.15am) Registrants are to attend both sessions. (full day workshop - 2 sessions)
Venue: Via Zoom. Details will be emailed to registrants just prior to the workshop start time
Facilitator: Charlie Tulloch
Register online by: 19 June 2022. Spaces limited to 25 participants
Fees (GST inclusive): Members $260, Non-members $425, Student member $125, Student non-member $210*
* Students must send proof of their full-time student status to
Read More
---
Both workshops will be held as part of the aes22 Adelaide preconference workshop program. Click here for more details, and to register.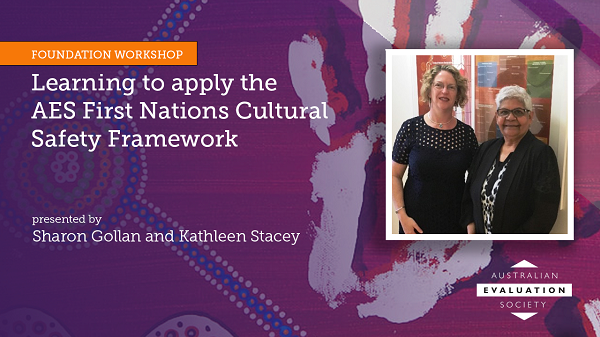 More dates to be announced soon.
Details and registration links are on the AES online events calendar.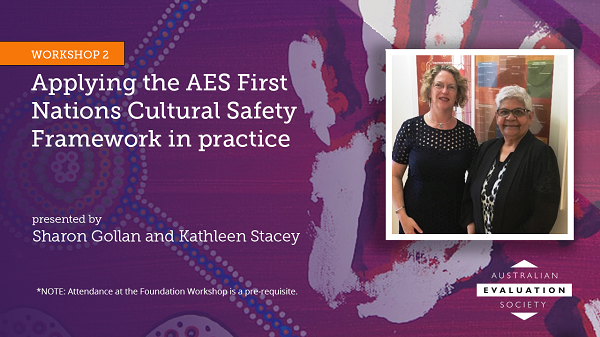 The purpose of this workshop is to build on the foundational workshop by providing participants with an opportunity to learn from and discuss examples of applying the concepts and approach described in the AES First Nations Cultural Safety Framework.

Pre-requisite: Attendance at the foundational 'Learning to apply the AES First Nations Cultural Safety Framework' workshop.

By the end of the workshop, participants will have reflected on and discussed actual examples of culturally safe evaluation that will:
Enhance their understanding of how the principles of culturally safe evaluation can be applied in evaluation contexts.
Strengthen their skills in applying critical self-reflection to their own evaluation contexts.
Enhance their understanding of what it means to be an ally for culturally safe evaluation.
This workshop will be run as a panel session, where two different evaluation teams will share an evaluation example that strove to be consistent with the Framework and facilitate a discussion with participants to explore the application of the Framework. Participants will get the opportunity to walk some of the journey of each evaluation, addressing scenarios or challenges that emerged along the way, and practice applying the concepts and approach in the Framework to identify how they would respond if faced with a similar scenario or challenge in a future evaluation.

Registrations are open for workshops in 2022: 24 June, with more dates to be anounced soon.
Details and registration links are on the AES online events calendar.
Note: both workshops will be held as part of the aes22 Adelaide preconference workshop program. Click here for more details, and to register.
---
EVALUATION LEARNING EVENTS
Click on the title below for full details, and to register.
SEMINARS
Interactive Session: Developing program logic: Tips .... And some pet hates! (online 23 June 2022)
Seminar: How can we support young and emerging evaluators? A discussion about a toolkit, and beyond (online 12 July 2022)
WORKSHOPS - Online Delivery
July 2022
Workshop: Using Program Theory and Program Logic for Improved Evaluation Practice (Online 6 + 13 July 2022)
Workshop: The Business of Evaluation: Entering the World of Consulting (Online 4 + 11 October 2022)
Workshop: Enhancing Evaluative Thinking and Reasoning (Online 19 + 26 July 2022)
Workshop: Engagement evaluation (Online 22 July 2022)
Workshop: Commissioning Better Evaluations (Online 27 + 29 July 2022)
August 2022
Workshop: Performance measurement: principles and practices (Online 3 + 10 August 2022)
Workshop: Evaluation and Value for Money: An approach using rubrics and mixed methods (Online 4 + 11 August)
Other EVENTS
30th June 2022 - online (IPAA WA partner event)
Workshop: Introduction to Program Logic (online 30 June 2022)
Please check the AES online events calendar: https://www.aes.asn.au/evaluation-learning/professional-learning-events and keep an eye on your inbox for details of other upcoming events.
---
JOB VACANCIES
Click on the title below for full job details.
If you would like to advertise a job vacancy on the AES website, please see details in the AES ONLINE SERVICES section below.
---
OF INTEREST
The Of Interest section of the AES Alert includes information from international evaluation societies as well as upcoming events and other articles that may be of interest to our members and wider evaluation community. There is no charge to be included. Please send content to by Wednesday lunchtime. Your article should include a short blurb and any relevant links. Note that we don't include images or upload documents. Note that the AES reserves the right to refuse publication if we don't judge that your copy is of interest to members of the AES. Member notices are given preference.
ANZEA news and events
KA MUA. KA MURI | LOOKING BACK TO MOVE FORWARD
ANZEA Conference 2022, 10-12 October, Wellington
We are incredibly excited to announce our first featured contributor
Jeph Mathias
Jeph is a highly respected international evaluator, who's returned to our shores from his international exploits with his whānau since COVID hit us all.
Jeph started his life as a doctor but found his calling working as an evaluator and international development consultant.
Jeph's particular area of expertise is participatory outcome mapping and harvesting, and we can't wait to hear how Jeph frames some of evaluation's big challenges today – building de-colonisation into our everyday evaluation practice, practising participation and identifying systemic injustice.
Want to find out more about Jeph?
Check out his website here: http://www.unpredictable.co
---
Clear Horizon Academy – Courses Now Available
Enrolments are now open for a range Clear Horizon courses, with AES members eligible to receive a 15% discount (just use the code "aes15" at enrolment to claim your discount).

THE COMPLETE GUIDE TO MEL
15-week online course | starts 29th July 2022
Developed by Dr Jess Dart and Carina Calzoni, this 15-week course contains key learnings and tips from their years of experience, as well as real-life case studies. You'll also have access to specialist mentors joining the course to talk latest tools and trends. It's your chance to be taken step-by-step through the process of developing your own MEL framework, from a robust Theory of Change to Strategic Learning and Reporting, and to receive expert feedback on your work. Find out more.

USING POWER BI FOR IMPACT
20 hours of learning | Self-paced (start anytime!)
This course isn't just about creating great reports. It's about getting the right information to the right audience to make strategic, evidence-based decisions. Join us to learn how to effectively use data to create meaningful impact reports in Power BI using real-world social impact data and examples. Find out more.
---
AES ONLINE SERVICES
AES Blog
We want to hear from you! What is interesting you in the world of evaluation? Have you attended an AES event recently and are keen to share what you learned? Please refer to the Guidelines for what and how to submit to the AES blog and if you have any questions, please email the team at . Check out the the latest AES blogs by clicking here.
Job Vacancies
Employers looking to fill positions in program monitoring and evaluation and performance measurement can list their job vacancies on the AES website. This service is available to members and non-members for a small fee. Discover the benefits of advertising on the AES website as recruiters and for applicants. Local and overseas opportunities are listed throughout the year and are also included in the AES Alert e-newsletter.
Consultants Directory
The AES often receives enquiries looking for evaluators with specific areas of expertise. These enquiries are directed to the online searchable Consultants' Directory. As well as being 'discovered' by potential customers, consultants in the directory also enjoy receiving early advice on any call for Evaluation services tenders. AES members can be listed in the Consultants' Directory for a small fee. Log into the AES website and access the form here.
Logging On to Member Only areas of the new AES website
Members can now remain logged into the AES website rather than log in each time - simply click on the 'Remember me' box when loggin in. If you have forgotten your username and password, please email us at .
Become an AES member
Do you work as an evaluator, commission evaluation work, manage evaluation projects, are an academic teaching and conducting research, a tertiary level student or even a professional interested in evaluation and performance measurement? Are you interested in developing your knowledge and skills across evaluation theory, methods and practice while networking with other professionals involved in similar work? Then you will benefit from joining the AES. Click here for more information and to apply to join.
---
We acknowledge the Australian Aboriginal and Torres Strait Islander peoples of this nation. We acknowledge the Traditional Custodians of the lands in which we conduct our business. We pay our respects to ancestors and Elders, past and present.
The Australian Evaluation Society is committed to honouring Australian Aboriginal and Torres Strait Islander peoples' unique cultural and spiritual relationships to the land, waters and seas and their rich contribution to society.
You have received this email because you are a member of AES,
have attended an AES event, or you have subscribed to an AES newslist.
You can Unsubscribe at any time.