AES Alert: 2 June 2022
AES ALERT: 2 june 2022
aes22, celebrating evaluation and excellence in Adelaide
This year in Adelaide, for the first time since Sydney in 2019, we gather together to celebrate evaluation, excellence, and each other.
Join us now in encouraging emerging First Nations evaluators to apply for a conference support grant. Showcase your own or a colleague's work by submitting a nomination for an AES Award for Excellence in Evaluation. And register now to join with your evaluation colleagues in Adelaide to attend pre-conference workshops as well as the aes22 conference.
Be sure to check out our keynote speakers, and featured panels, on this page.
The first draft of the conference program will be released shortly. Keep an eye on your inbox!
Key dates
13 June: Applications close for Conference Support Grants for Emerging Indigenous Evaluators
1 July: Nominations close for Awards for Excellence in Evaluation
1 July: Nominations close for Fellows of the AES
7 July: Early bird discounted conference and workshop registrations close
28 & 29 August: preconference workshops
30, 31 August and 1 September: Adelaide conference
31 August: Gala Awards Dinner
---
AES board member Anne Stephens presents to Queensland Parliament education, employment and training committee
The Queensland Parliament's Education, Employment and Training Committee met on the 23 May to conduct a briefing with industry experts in VET challenges, opportunities and delivery of training in regional, rural and remote areas of Queensland.
AES Board Member, Dr Anne Stephens was invited to present to the committee on the delivery of health workforce VET in rural and remote regions, based on her applied evaluation work conducted between 2011 to the present day.
The committee is interested in models of service delivery to meet the current and future needs of students, workers, businesses and communities. Dr Stephens' evaluations of the training provided by Wontulp-Bi-Buya College and other services across northern Australia, was of interest to the committee who asked further questions about the difference between Indigenous controlled services and mainstream VET delivery, pedagogy and student profiles.
---
Interested in the EvalYouth Global Network?
Are you a young and emerging evaluator interested in a career in evaluation?
A national chapter of the global EvalYouth network could be established in Australia. EvalYouth is a global network of young and emerging evaluators (YEEs)* and other stakeholders. The network aims to:
Promote YEEs to become technically sound, experienced and well-networked professionals who contribute to evaluation capacity at all levels, and,
Promote the inclusion of youth and young people in evaluations
EvalYouth aims to encourage young professionals into the field, to advocate for opportunities for these young evaluators and to provide opportunities for YEEs to connect.
Many other countries are establishing chapters with nine national chapters launched throughout the Asia-Pacific Region to date.
Expressions of interest are being sought for involvement in a potential Australian chapter. This initial call aims to explore the level of interest in establishing a local chapter to assess the potential for moving forward with a national chapter and to assist with planning next steps.
If you are interested in becoming a member or would like to be involved in a leadership role, please complete this short questionnaire by Friday June 17th to indicate your preferred level of involvement.
For further information visit https://evalyouth.org/ or email with any questions.
We look forward to hearing from you!
*EvalYouth defines a YEE as someone under the age of 35, or someone with less than 5 years of experience in the evaluation field, or a recent university graduate with an interest in a career in evaluation.
---
Both workshops will be held as part of the aes22 Adelaide preconference workshop program. Click here for more details, and to register.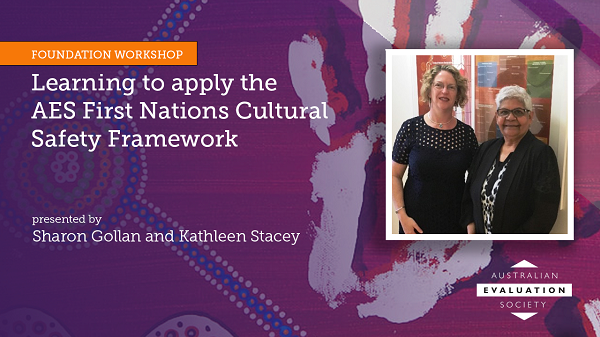 More dates to be announced soon.
Details and registration links are on the AES online events calendar.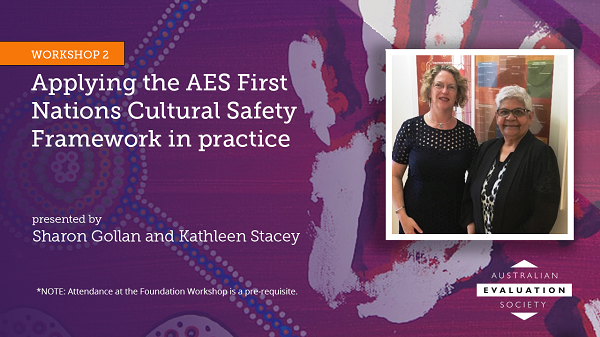 The purpose of this workshop is to build on the foundational workshop by providing participants with an opportunity to learn from and discuss examples of applying the concepts and approach described in the AES First Nations Cultural Safety Framework.

Pre-requisite: Attendance at the foundational 'Learning to apply the AES First Nations Cultural Safety Framework' workshop.

By the end of the workshop, participants will have reflected on and discussed actual examples of culturally safe evaluation that will:
Enhance their understanding of how the principles of culturally safe evaluation can be applied in evaluation contexts.
Strengthen their skills in applying critical self-reflection to their own evaluation contexts.
Enhance their understanding of what it means to be an ally for culturally safe evaluation.
This workshop will be run as a panel session, where two different evaluation teams will share an evaluation example that strove to be consistent with the Framework and facilitate a discussion with participants to explore the application of the Framework. Participants will get the opportunity to walk some of the journey of each evaluation, addressing scenarios or challenges that emerged along the way, and practice applying the concepts and approach in the Framework to identify how they would respond if faced with a similar scenario or challenge in a future evaluation.

Registrations are open for workshops in 2022: 24 June, with more dates to be anounced soon.
Details and registration links are on the AES online events calendar.
Note: both workshops will be held as part of the aes22 Adelaide preconference workshop program. Click here for more details, and to register.
---
EVALUATION LEARNING EVENTS
Click on the title below for full details, and to register.
SEMINARS
Seminar: Exploring collective impact initiatives and approaches to evaluate them – Features, opportunities and challenges (online 15 June 2022)
Seminar: Innovative Methods in Market Research – Digital data collection via Tik Tok (online 15 June 2022)
WORKSHOPS - Online Delivery
June 2022
Workshop: Applied Cost-Benefit Analysis for Evaluators (Online 7 + 14 June 2022)
Workshop: Introduction to Evaluation: Core Concepts and Methods (Online 21 + 23 June 2022) (2)
July 2022
Workshop: Using Program Theory and Program Logic for Improved Evaluation Practice (Online 6 + 13 July 2022)
Workshop: The Business of Evaluation: Entering the World of Consulting (Online 4 + 11 October 2022)
Workshop: Introduction to Evaluation: Applied Techniques (Online 12 + 14 July 2022)
Workshop: Enhancing Evaluative Thinking and Reasoning (Online 19 + 26 July 2022)
Workshop: Engagement evaluation (Online 22 July 2022)
August 2022
Workshop: Performance measurement: principles and practices (Online 3 + 10 August 2022)
Workshop: Evaluation and Value for Money: An approach using rubrics and mixed methods (Online 4 + 11 August)
Other EVENTS
16th June 2022 - online (IPAA WA partner event)
Workshop: Introduction to Monitoring and Evaluation (Online 16 June 2022)
30th June 2022 - online (IPAA WA partner event)
Workshop: Introduction to Program Logic (online 30 June 2022)
Please check the AES online events calendar: https://www.aes.asn.au/evaluation-learning/professional-learning-events and keep an eye on your inbox for details of other upcoming events.
---
JOB VACANCIES
Click on the title below for full job details.
If you would like to advertise a job vacancy on the AES website, please see details in the AES ONLINE SERVICES section below.
---
OF INTEREST
The Of Interest section of the AES Alert includes information from international evaluation societies as well as upcoming events and other articles that may be of interest to our members and wider evaluation community. There is no charge to be included. Please send content to by Wednesday lunchtime. Your article should include a short blurb and any relevant links. Note that we don't include images or upload documents. Note that the AES reserves the right to refuse publication if we don't judge that your copy is of interest to members of the AES. Member notices are given preference.
ANZEA news and events
KA MUA. KA MURI | LOOKING BACK TO MOVE FORWARD
ANZEA Conference 2022, 10-12 October, Wellington
In discussion with the Board, the Conference Committee has made the call to move our conference to October 2022.
This decision was made in light of the current impact of COVID in Aotearoa and in order to preserve a safe in-person event that we are all keen to see.
WEBINAR: Engage Your Collaborators with Data Parties
Data parties are a participatory session where you sit down with your partners, collaborators, and other stakeholders to collaboratively and equitably explore and interpret the initial results. Data parties are an important but often underutilized activity for promoting the uptake of recommendations, knowledge translation and a learning culture.
Join us for an informative and interactive webinar that covers the who, what, why, when, and how of hosting an online or in-person data party. Using engaging lecture, demonstrations, real-life examples, and breakout discussion, presenter Kylie Hutchinson will share practical tips and techniques for data parties including format options, potential pitfalls, and ways to engage collaborators with your evaluation and research data.
Date: June 16, 2022
Time: 9:30 am - 12:30 pm PT
Register: https://conta.cc/3rXWfig
If this time does not work for your time zone, please contact us. If there is enough interest we may be able to schedule additional offerings for individuals outside of North America.
---
AES ONLINE SERVICES
AES Blog
We want to hear from you! What is interesting you in the world of evaluation? Have you attended an AES event recently and are keen to share what you learned? Please refer to the Guidelines for what and how to submit to the AES blog and if you have any questions, please email the team at . Check out the the latest AES blogs by clicking here.
Job Vacancies
Employers looking to fill positions in program monitoring and evaluation and performance measurement can list their job vacancies on the AES website. This service is available to members and non-members for a small fee. Discover the benefits of advertising on the AES website as recruiters and for applicants. Local and overseas opportunities are listed throughout the year and are also included in the AES Alert e-newsletter.
Consultants Directory
The AES often receives enquiries looking for evaluators with specific areas of expertise. These enquiries are directed to the online searchable Consultants' Directory. As well as being 'discovered' by potential customers, consultants in the directory also enjoy receiving early advice on any call for Evaluation services tenders. AES members can be listed in the Consultants' Directory for a small fee. Log into the AES website and access the form here.
Logging On to Member Only areas of the new AES website
Members can now remain logged into the AES website rather than log in each time - simply click on the 'Remember me' box when loggin in. If you have forgotten your username and password, please email us at .
Become an AES member
Do you work as an evaluator, commission evaluation work, manage evaluation projects, are an academic teaching and conducting research, a tertiary level student or even a professional interested in evaluation and performance measurement? Are you interested in developing your knowledge and skills across evaluation theory, methods and practice while networking with other professionals involved in similar work? Then you will benefit from joining the AES. Click here for more information and to apply to join.
---
We acknowledge the Australian Aboriginal and Torres Strait Islander peoples of this nation. We acknowledge the Traditional Custodians of the lands in which we conduct our business. We pay our respects to ancestors and Elders, past and present.
The Australian Evaluation Society is committed to honouring Australian Aboriginal and Torres Strait Islander peoples' unique cultural and spiritual relationships to the land, waters and seas and their rich contribution to society.
You have received this email because you are a member of AES,
have attended an AES event, or you have subscribed to an AES newslist.
You can Unsubscribe at any time.